New Patients
What to Expect
Welcome to Elevate Chiropractic! We're honoured that you've chosen our wellness centre for your natural healthcare needs. After you make your appointment, we will send you a welcome email that tells you what to expect on your first visit.
There are forms for you to print and fill out. Please bring them in with you completed and signed.
ONLINE FORMS »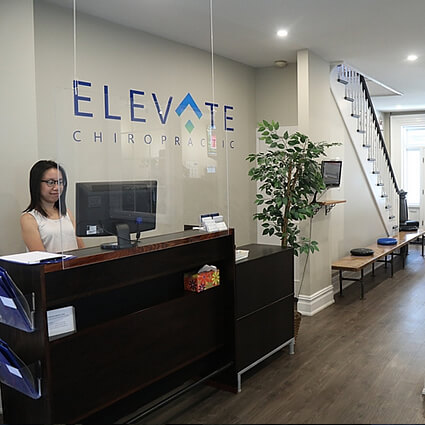 When you come in, Karen at the front desk will come around and give you a warm and friendly greeting. She will take the completed forms and create a file for you. If you weren't able to complete them in advance that's okay. Karen will give you the paperwork to fill out. We just ask that you arrive 15 minutes early if you prefer to complete the forms in the office.
You'll also be offered water or tea, and then be given a brief office tour. Karen will show you the adjusting area and describe some of our other services that we have in the office.
Next, you can expect the following:
The consultation:
You'll be brought to a consultation examination room and invited to have a seat. Then, Dr. Craig will come in, introduce himself, and go over what has brought you in. If you want to proceed, exams are next.
The exam process:
As we are very thorough, we will give you several tests, depending on what your consultation results say. After the exams, we will take X-rays, which we have on-site.
Please wear comfortable, loose-fitting clothing.
This appointment takes 45 minutes to an hour total in the door, out the door.
Communication Before Your Next Visit:
Before your second visit, you'll receive a friendly email that details what you'll experience at your next visit.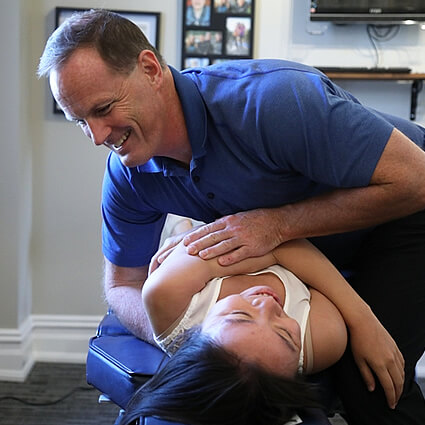 In the meantime, Dr. Craig will analyze all the data that he collected on that day and have it all organized into a binder that has the information about our office and our procedure. He will make copies of all your results and put them in the binder for you.
Your doctor will discuss all of your examination findings with you and give you any recommendations at that time. As four ears are better than two, we recommend that you bring your spouse, partner, or friend with you.
If you're interested in proceeding, we will go through all the financials. The care plans can typically be from two to six months, depending on the individual and what their needs are. If you agree to begin, you'll receive your first checkup and adjustment.
Rest assured that you'll be fully informed each step of the way what is going to happen.
This appointment takes 30 minutes.
These regular visits are brief at about 10 minutes in total, with just three to four minutes of time getting adjusted.
If you are on a six-month care plan, we will have you come in about every six weeks to get rechecked and retested. These visits are scaled-down versions of the report of findings. They'll be done in Dr. Craig's consultation room as well.
So we can show you your results, we'll have objective testing that we have pre and post and they'd be side by side, and we'd have measured changes that we look at.
Get Started Today
Contact us today to schedule an appointment! We accepted Visa and MasterCard.
CONTACT US »

New Patients | (905) 841-0400