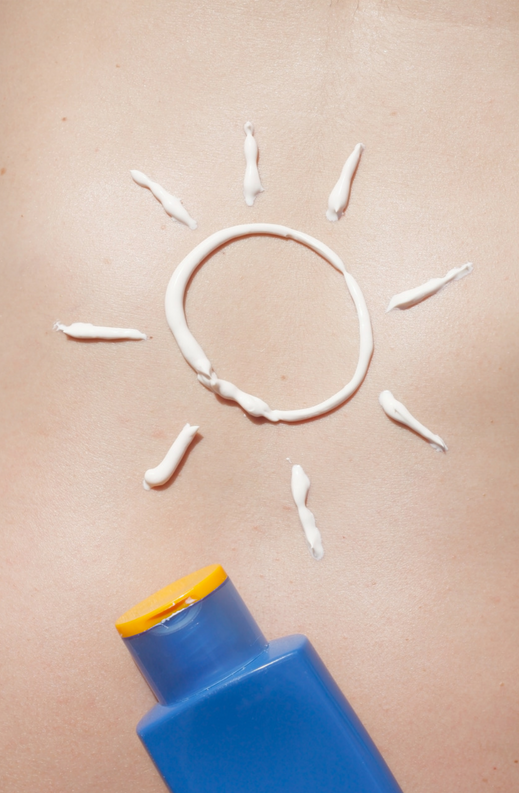 Many of the sunscreens on the market today still contain harmful ingredients.   However, things are changing – for the better! There are now many different healthy choices to protect yourself when you know you can't limit your exposure to the sun to avoid a burn.
Your skin is the largest organ in your body and readily absorbs chemicals into the body and bloodstream. I once heard a health expert say never put anything on your skin that you wouldn't put in your mouth.
That seems a little extreme, but absorption rates are quite high for many harmful ingredients in sunscreen. Research has even shown evidence of a number of different sunscreen chemicals present in breast milk.
In particular, you should avoid sunscreen with these ingredients:
Oxybenzone, which is used to absorb UV light, is very readily absorbed through the skin and has been linked to hormonal disruption and cell damage. Recent studies have shown significant reductions in testosterone levels due to oxybenzone.
Retinyl palmitate, a derivative of vitamin A, is known to speed up the growth of cancer and is potentially toxic to organs. It has a high absorption level and does not make sunscreen any more effective.
Any sunscreen of SPF over 50. Sunlight contains both UVA and UVB Sunburns are mainly caused by UVB. An SPF of 15 blocks 93% of UVB rays, SPF 30 blocks 97%, and SPF 50 blocks 98%. As you can see there is a diminishing return with higher SPFs. Wearing sunscreen blocks the UVB rays so we don't get that pinkish redness in our skin. As a result, we tend to increase our time in the sun since we aren't "burning". However, this increases our exposure to the more damaging UVA rays.
All Spray-on sunscreens. Health risks from harmful ingredients are higher due to the high chances of inhalation of the product.
What do we recommend?
Make sure the sunscreen has broad-spectrum protection (against both UVB and UVA). UVA radiation penetrates deep and causes free-radical damage so make sure your sunscreen protects against this!
Keep in mind that blocking UVB radiation means decreasing your vitamin D production. Safe sun exposure is great for vitamin D production and great for your health… but a sun burn is never good. Short periods of sun exposure is fine without sunscreen, but if you know you burn easily or if you see your skin turning pink, don't risk it!
Plan your outdoor activities when the sun is not at its strongest and wear hats and clothes to cover up when you know you will be in the sun. If you have to use sunscreen, choose lower SPF products (15-30 SPF – the lower the safer).
So what products should you use?
Look for products with titanium dioxide and/or zinc oxide. These mineral based products both protect against UVA and UVB radiation and are non-toxic. Very little zinc or titanium is absorbed by the skin. You may just need to work a little harder to rub these in, as they are quite white! One time I squeezed the tube of a very healthy mineral sunscreen and a sweater popped out!
Badger, Kiss My Face, and Live Clean are all excellent (non-sweater) choices.
The Environmental Working Group (EWG) writes an updated Sunscreen Guide each year with the world's most healthy brands. Get it HERE.
These products can be found at Nature's Emporium and are rated high on the Environmental Working Group's list of best sunscreen products. And actually, the Live Clean brand is readily available at most Shopper's Drug Stores and Walmart.
Hope that helps! Now get out there and enjoy a moderate amount of health-giving sunshine!
PS. Join us at our upcoming Think By Design workshop on Tuesday, July 11th from 6:30-8pm to learn about the role of positive mind habits and their effects on health – register by clicking here.