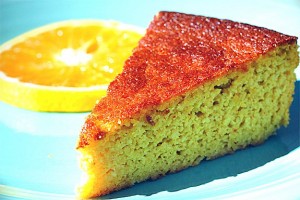 This recipe is gluten free, dairy free, and actually TASTES GREAT!
Homemade Orange Starbucks Cake
Ingredients:
2 seedless oranges

4 eggs

¾ cup maple syrup

2 cups almond flour

½ tsp sea salt

1 tsp baking soda
*if you would like a substitute for the maple syrup, make your own xylitol syrup (½ cup xylitol, mixed with boiling water)
Directions:
Wash the oranges and boil them whole for 1½ hours or until soft.  Yes, even the peel – trust me.  The easiest way to do this is to put the oranges in a veggie steamer and put the steamer inside a pot with enough water to cook for the amount of time required.  I boiled on medium.
Place the whole oranges (peel and all) in a food processor and blend until smooth.
Process in eggs, maple syrup, almond flour, salt and baking soda until well blended.
Pour batter into a greased 9″ cake pan.
Bake at 375F for 45-50 minutes or until a toothpick comes out clean (I think I had to cook for more like an hour).
Cool in the pan for 2 hours. Serve or ice with your favourite icing. Might I suggest the coconut cream icing below?
---
Coconut Cream Icing
Ingredients:
1 can of coconut milk, chilled

2 T icing sugar (or to taste) *

optional

Vanilla extract *

optional
Directions:
This step is super important – do not skip it even though you will be tempted to like I was.  Trust me, it won't turn out if you miss this.  Place your can of coconut milk in the fridge overnight or for at least 8 hours.
Chill bowl and beaters for about 15 minutes before making your icing.  Everything needs to be cold!
Remove coconut milk from the fridge, TURN THE CAN UPSIDE DOWN and open the can. The solid part of the coconut milk should be on top.  Scoop it out into your bowl.  Pour the coconut water in the bottom of the can into a container to use for smoothies.
Whip the coconut milk in the bowl until it's light and fluffy.  Add the icing sugar to taste.  I added a bit of vanilla extract too, but it's not necessary.
Make sure your cake is cool to cold before you ice it.  Enjoy this gluten free, dairy free sensation!
Recipe from Elana's Pantry, http://www.elanaspantry.com/homemade-starbucks-orange-cake/