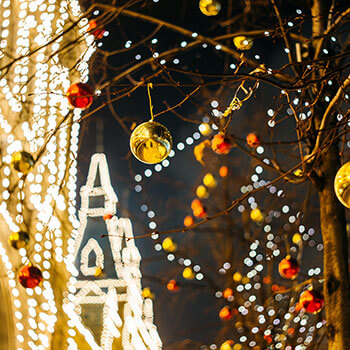 The holiday season is upon us. December brings holiday parties, extended mall hours, crazy crowds and presents galore. This is supposed to be a time of cheer and family, but this isn't always the case. The holiday season brings a lot of stress. Depression rates skyrocket. Here are some tips to ensure you're able to fully enjoy this holiday season.
Plan Ahead: Start thinking about planning your holiday season early. Get out your calendar and put in all your important dates like Holiday parties, family events, birthdays, etc. This visual representation will help you schedule your Christmas shopping and self-care time. Make sure to include both of those on this calendar. Writing them out on the calendar will hold you accountable and subconsciously motivate you. I should also mention planning your budget. Go through everyone you need to get presents for and how much the holiday parties are going to cost you. Remember thoughtful gifts are always more appreciated and don't have to break the bank.
Avoid Overscheduling: You are going to have a lot to do this Holiday season. Your stress levels are going to increase with the more commitments that you make. Stick to commitments that you feel you are going to enjoy, and are going to enhance your Holiday season. Avoid the commitments that you feel you are obligated to and you are dreading.
Self-Care: Your benefits are ending and the holiday season allows you a little more time off from work. Take advantage of the extra time and actively work on your health. This could be starting to meditate, getting a massage, going to an acupuncture treatment, or starting to exercise. You and your mental health are very important, don't downplay them this holiday season. The extra self-care will help you deal with some of your relatives that get under your skin.
Managing Family: Not everyone has a loving warm family, and no family isn't without their problems. This holiday season, get through spending extra time around your family in the least stress-provoking way. Minimize the time you spend around family members you have problems with. Keep the conversations light, and use the 10 breath system. The 10 breath system is inhaling and exhaling deeply 10 times before responding. You can also remove yourself from the situation and do the breaths by yourself. You will not have any outbursts or conversations that you will regret and feel guilty about later. Your focus is on your behaviour during family events. You will feel a lot better and even proud of yourself if you employ the 10 breath system.
Diet Cheats: It is the holiday season. This also means that you are allowed to cheat on your diet. There has to be balance in life and this is the time to indulge. Have an extra cheat meal or day per week in December. Moderation is key, don't throw your diet out the window. If you have food sensitivities or Inflammatory Bowel diseases this is going to be at your own risk. Symptoms will appear if you eat foods you are not supposed to. I highly recommend making or buying the Gluten/dairy/egg-free or vegan versions and indulging in those. Your diet should never make you feel like you are missing out. Join in the festivities.
I hope these tips serve you well. I wish you all a Merry Christmas and Happy New Year. For those of you who celebrate Hanukah or Kwanza; Happy Holidays! May The Holiday Season conspire to gladden your heart, while filling every desire!
Dr. Liz, ND